University, Tik Tok tap short videos to promote art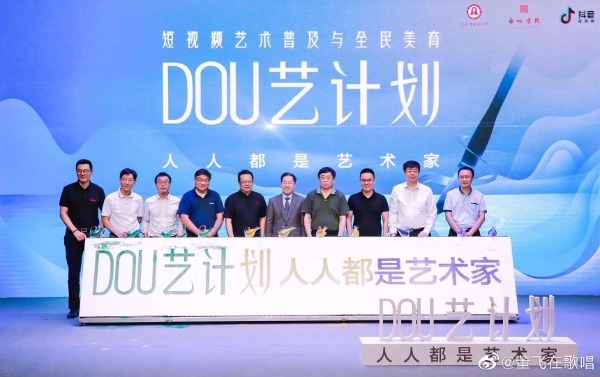 Beijing Normal University and the short video platform Tik Tok, locally known as Douyin, kick off the DOU Art Plan in Beijing, Aug 20, 2019. [Photo/Sina Weibo account of Dong Fei]
A report recently released by Beijing Normal University's School of Arts and Communication revealed that short videos, hugely popular among Generation Z, have played an increasingly important role in promoting art and culture in the internet age.
Moreover, the university and the short video platform Tik Tok, locally known as Douyin, announced Aug 20 that are kicking off the DOU Art Plan, aiming to capitalize on the platform's popularity to promote art as well as advance aesthetic education for all.
With the rise of short videos, everyone can perform, share and learn on short video platforms, through which they can become culture and art promoters. This will greatly improve the general public's ability to appreciate and create art, thus speeding up the development of our country's aesthetic education, said Yang Chenghu, professor of BNU's School of Arts and Communication.
Dong Fei, a male dan actor, is the third-generation inheritor of the Mei School as well as a social media influencer for his informative and interesting video content featuring Peking Opera, which he posted on Tik Tok.
From his videos, followers can not only know about the stories behind key figures like Mei Lanfang in Peking Opera history, but also learn how to do orchid-shaped fingers and sing the opera.
What he does has earned him a large following on the platform and also helped the younger generation know more about male dan actors, the practice of male actors playing female roles in Peking Opera.
"In the information age, artists in the opera circles shouldn't be hermits who keep themselves far away from the general public," said Dong, who hopes that his efforts can help modern people, especially the young, to learn about opera culture.
According to the DOU Art Plan, Tik Tok will grant vloggers creating art-themed content access to post longer videos and direct more traffic to their pages. In doing so, artists and art aficionados can be incentivized to create more quality content to engage platform users.
In addition, a Tik Tok art consulting team, comprised of professors and artists from major art academies at home and abroad, will be set up to ensure the quality of art-themed video content posted on the platform.